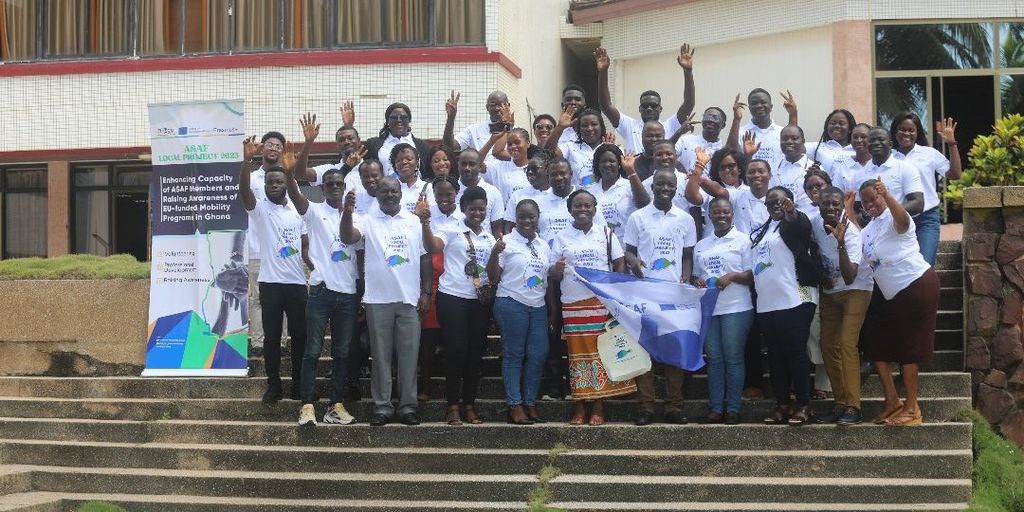 Building Capacities in Volunteerism and EU-Funded Projects: ASAF Ghana Connects Members and Stakeholders
In October 2023, ASAF organised a two-day capacity building workshop at the Elmina Beach Resort in Ghana. The event aimed to raise awareness of ASAF, Erasmus+, and EU-funded mobility programs among higher education stakeholders in Ghana. Attendees expressed keen interest in volunteering, professional development, and joining ASAF.
The Ghana Chapter of the African Students and Alumni Forum (ASAF-Ghana) embarked on a two-day local project to enhance the capacity of its members and other stakeholders. The capacity building project was centred on volunteerism and professional development, as well as projected EU-funded mobility programs from Thursday, 5th to Friday, 6th October 2023, at the Elmina Beach Resort, Ghana.
The two-day capacity building workshop, which was attended by 53 participants drawn from diverse institutions in Ghana, was dubbed "Enhancing the Capacities of ASAF Members in Volunteering, Professional Development, and Raising Awareness among Stakeholders on EU-Funded Higher Education Mobility Programmes".
The project's main objective was to ensure stakeholders from various higher education institutions in Ghana were made aware of ASAF, Erasmus+ and EU-funded higher education mobility programmes. The participants gained knowledge and insight into professional development, volunteering, and harnessing the numerous opportunities offered by the mobility programmes sponsored by the EU.
The Project Coordinator, Mrs. Nelly Adjoa Sakyi-Hagan, in welcoming participants to the workshop, expressed the project team's appreciation and excitement for their participation in the maiden project in Ghana. She underscored the need to enhance the knowledge base, volunteering skills and professional development of both ASAF members and prospective members for an increased impact of ASAF, Erasmus+ and EU-funded mobility programmes in Ghana.
"I believe that this knowledge will not only benefit you personally but will also enable you to contribute meaningfully to ASAF, your institution, the nation and the world at large. The realisation of this local project stands as a testament to ASAF's commitment to empowering our members and stakeholders, enhancing their knowledge, skills, and competencies, and ultimately contributing to the transformation of our educational landscape and the advancement of Africa," she said. Mrs. Nelly Adjoa Sakyi-Hagan expressed gratitude to all parties involved for their exceptional assistance and cooperation. She exhorted everyone to actively participate, contribute ideas, ask questions, share personal stories and collaborate with fellow participants.
"This is an opportunity for mutual learning and growth, fostering a vibrant community of knowledge and action. Your insights, questions and perspectives are what will make this project truly impactful and meaningful. I strongly believe that your dedication and passion for the betterment of higher education in Ghana and mobility programmes have brought you here, and so I have every confidence that this project will be a success," she stated.
In her keynote address and presentation on the projection of EU-funded programmes, Marta Brignone, a representative of the EU Delegation to Ghana, emphasised the importance of investing in education as a crucial approach for achieving peace, prosperity, and the well-being of both people and the environment. She pointed out that the Africa-Europe Global Investment Package for education and skills aimed to put skilled human capital at the heart of Africa's agenda to build the continent's strategic autonomy, strength and resilience to address major challenges. Marta Brignone indicated the EU's intent to invest in boosting the labour market and equipping the youth with the necessary skills to thrive in a changing world, with a focus on the most innovative industries and high-quality, inclusive education and training.
"Specifically, the EU invests in the quality of teachers by improving teacher governance and building their capacities to innovate and support learning and the digital and green transformation of education; equity by promoting girls' education and the inclusion of those left behind; and skills for next generation jobs, including the skills required for the twin digital and green transition," she averred.
She highlighted the main EU flagship initiatives, such as youth mobility for Africa, other EU programmes covering Africa, the EU-Ghana pact for skills, a focus on Erasmus+, a focus on Horizon Europe, a focus on Marie Sklodowska-Curie actions and Erasmus joint master degree.
In another session, Mr Gideon Asare Anor, a trained nautical engineer and middle-level manager of the Ghana Water Company in Tema (Ghana), with a wealth of experience in advocating, volunteering and handling training sessions, was the expert resource person for the project. The expert interacted with participants on the topics "empowering through volunteering" and "A-Z preparation towards scholarships and mobility in Europe". He discussed with participants the meaning of volunteering, its types and benefits, ASAF volunteering experiences and initiatives, how to get started, tips for a successful volunteering experience, challenges associated with volunteering, making a difference and getting engaged. His presentation helped address some of the core issues of concern to volunteers and increased participants' interest in volunteering further.
Volunteering becomes effective and successful when stakeholders are empowered with the requisite skills. A seasoned senior full Professor, former Pro Vice Chancellor, former Dean and former Head of Chemistry Department of the University of Education, Winneba (UEW), Ghana, endowed with a wealth of experience in continuous professional development, Professor Ruby Hanson, was the trainer for the workshop. Professor Ruby Hanson guided participants through the fundamentals of professional growth and development. She interacted with participants on professional development for effective teaching, research and community service. She also provided participants with insights into creative professional development pathways from groups and allowed them the chance to share their own professional development experiences for growth and discuss a course of action.
On projecting ASAF to stakeholders, A lecturer at the Department of Geography Education, UEW, and past President of the ASAF Board, Dr. Felix Kwabena Donkor, promoted ASAF to stakeholders. He highlighted the mission, vision, various task forces and working groups of ASAF. He emphasised on how one could become an ASAF member.
The workshop's interactive and instructive elements, which ultimately made it very engaging, were admired by the participants. Hence, during the workshop review and evaluation session, participants commended the organisers for the enriching their understanding and knowledge of ASAF, and hoped to explore EU funded mobility programmes. They indicated their readiness to put to practice the spirit of volunteerism as well as build on the existing networks initiated during the workshop. Many stakeholders were inspired by the information learned during the project's workshop sessions and announced their intention to work towards joining ASAF as soon as feasible.
The project team included the following ASAF-Ghana members:
Mr Wisdom Eyram Agbesie – Co-Ambassador of ASAF Ghana
Dr. Felix Kwabena Donkoh – Past President of ASAF Board
Dr. Mrs Charity Esenam Anor – Member, Task Force
Dr. Hilary Mireku Botey – Member, Task Force
Ms. Patience Mansa Gapketor –Former Co-ambassador and Co-Speaker for Committee on Mobility Programme, Diversity and Inclusion (CMPDI)
Mr. Samuel Arko Mensah
Ms. Esther Nartey – Member, Task Force
Mr. Benjamin Quarshie – Member, Task Force
Dr. Peter Akayuure
Mrs. Nelly Adjoa Sakyi-Hagan – Co-Speaker Internal Affairs and Project Coordinator
Charity Esenam Anor and Felix Kwabena Donkor
Ghana, Winneba, 11th of October, 2023
---