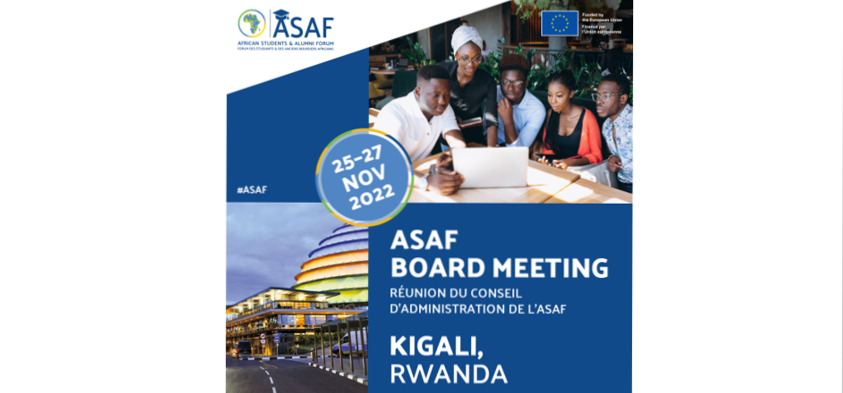 Upcoming ASAF Board Meeting in Kigali
The newly-elected ASAF Board will meet for the first time from 25 – 27 November 2022 in Kigali, Rwanda to discuss core organizational matters like developing working plans, structures, and roles/responsibilities to start-off their term.
Germany, COLOGNE, November 22, 2022 — After elections were held in September 2022, the new 9-member ASAF Board was elected for the term 2022 – 2024, having the collective aim of strengthening the strategic development of Africa by implementing ASAF's vision of knowledge-sharing and educational mobility. The Board will meet for the first time in Kigali, Rwanda from 25 – 27 November 2022, along with representatives from the Service Providers and other third parties, with the objectives including (but not limited to):
Creating working structures for the different bodies within ASAF
Re-activating the ASAF Task-Forces and electing their Co-Speakers
Creating a working plan for 2023, as well as a longer 3-year working plan
Discussing a strategy for national structures within ASAF to supplement and cooperate with the overall continental structure, namely between Co-Ambassadors for each African country
Determining clear assignments of tasks and responsibilities within the Board and Task-Forces
Setting clear processes and procedures for Projects in 2023
Some activities planned for the meeting include:
Participants introduction, with icebreakers to get to know each other
Going through ASAF's milestones
Reporting on the different departments within ASAF
Determining how to staff Committees with the aims of diversity/inclusion and regional cooperation/integration
Having working groups for several topics
Brainstorming on how to attract and activate ASAF members
Network and Outreach Dinner with local ASAF members
Shooting interviews
Group work
Wrapping up by recording concrete procedures and the results of the meeting
The meeting will conclude with recapping the outcomes of the sessions held, a feedback round, as well as a discussion on the future of ASAF and its potential in the years to come.
---