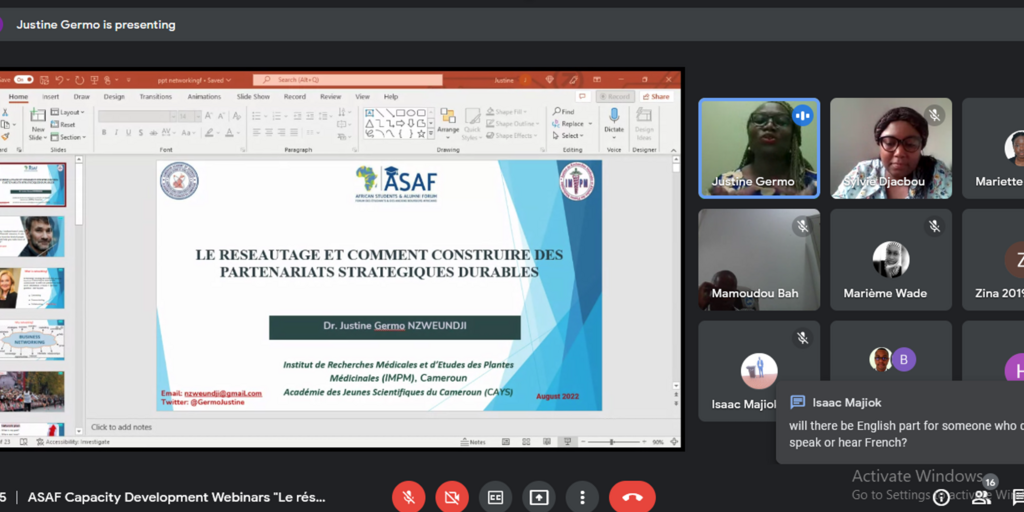 Networking and how to build sustainable strategic partnerships.
This seminar was held on 25th of August 2022 at 3pm (CET) and was about building sustainable strategic partnerships! The main language of this seminar was French.
The meeting actually started after 10 minutes of waiting for the participants.
At the beginning of the session, a brief presentation of the ASAF was made by Mrs. Mariette AGBOHESSOU. Then the floor was given to Dr. Justine G. NZWEUNDJI.
From her presentation we can retain that networking involves three components: the individual, communication and collaboration. The importance of networking in all fields is no longer in question and it is possible and advisable to develop our network everywhere. Whether it is in the service, on social networks, in the church, wherever humans can meet, networking is possible.
Regarding how to build sustainable strategic partnerships, she stressed the need and importance of having a "pitch elevator" because most of the contacts we would like to have in our network have only a few seconds for us. To do this, we need to give as much information as possible about ourselves and our business in two or three minutes maximum. It is also important to always carry your business card. She added that it is not enough to just hand out business cards but to follow up with the people to whom we have given them. And for that you have to be very flexible; send them an e-mail and do a follow-up, don't put pressure on them. She also mentioned that from time to time you need to evaluate your network using the SWOT (Strengths Weaknesses Opportunities Threats) tool to see how and in what way each partner is useful to you. It is not enough to have partners but to know and measure the value that each party brings to the network. To do this, each party will have to do its part to ensure that the partnership lasts over time. "Developing partnerships is not synonymous with asking for favours, contacts are not customers.
After his presentation some participants took the floor to ask questions and make comments. In total, 16 participants attended the meeting.
The meeting ended at 16:30 CET.
Moderator: Ms Sylvie DJACBOU
Rapporteur : Mme Mariette AGBOHESSOU
Cologne, 5th of September 2022
written by Justine Germo Nzweundji
edited by the service provider
---