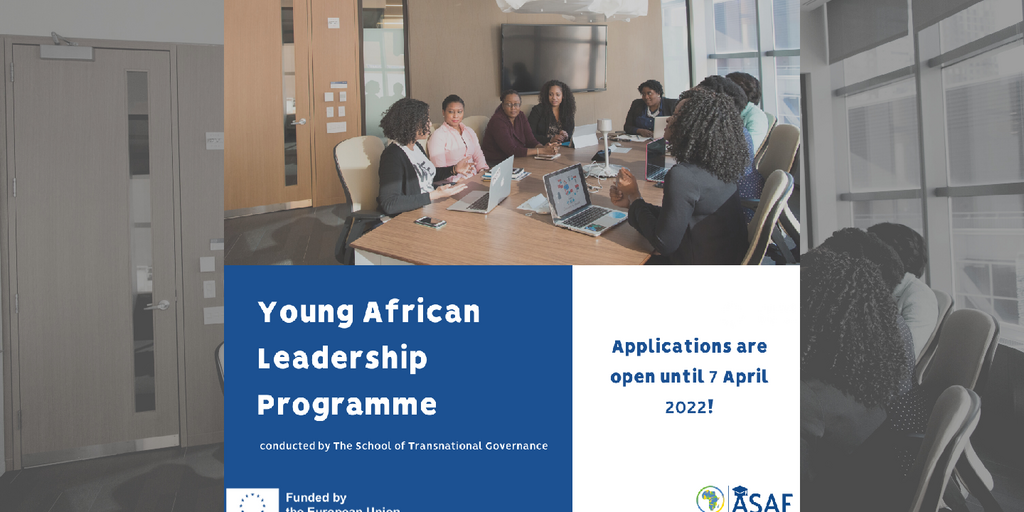 Leadership programme for African policy experts in Florence enters second round!
The European University Institute's School of Transnational Governance launched the second call of its Young African Leadership Programme financed by the European Commission. Applications for the paid fellowships are open until 7 April 2022!
This Year in Autumn, the selected mid-career policy professionals from Africa will fine-tune their global leadership skills during a three-month fully-funded training programme in Florence, Italy.
The Young African Leadership Programme a fellowship scheme that provides a unique opportunity for policy experts from Africa (all regions) to further develop their policy work and professional and leadership skills amidst international experts.
It is aimed at mid-career African public servants, journalists, entrepreneurs and civil society leaders. The School of Transnational Governance (STG) is looking for applicants with a keen interest in pan-African issues, including:
peace, security and governance
gender and inclusiveness
migration and mobility
education
science
skills development
climate change and resilience
the private sector
trade and investments
technology and digital transformation
public health
The African fellows will participate in applied policy and academic workshops, training and skills development sessions, high-level interactive lectures, study visits and field trips in Europe. Applications for the paid fellowships are open until 7 April 2022.
Selected fellows are expected in Florence, Italy, in September 2022.
An upcoming short film, in première in Florence on 14 March 2022, will tell the story of the first cohort of African fellows, which have joined the STG in September 2021, so definitely dont miss out on that première!
If you are keen to take part in a programme which discusses cross border issues with African, European and international policy leaders, receive leadership skills training, learn more about the African and European realationship and step into the footsteps of the first cohort of African leaders - then you should definitely consider taking part in this programm!
For more information on the application process visit this link.
11 March 2022
European University Institute
Edited by Service Provider
---