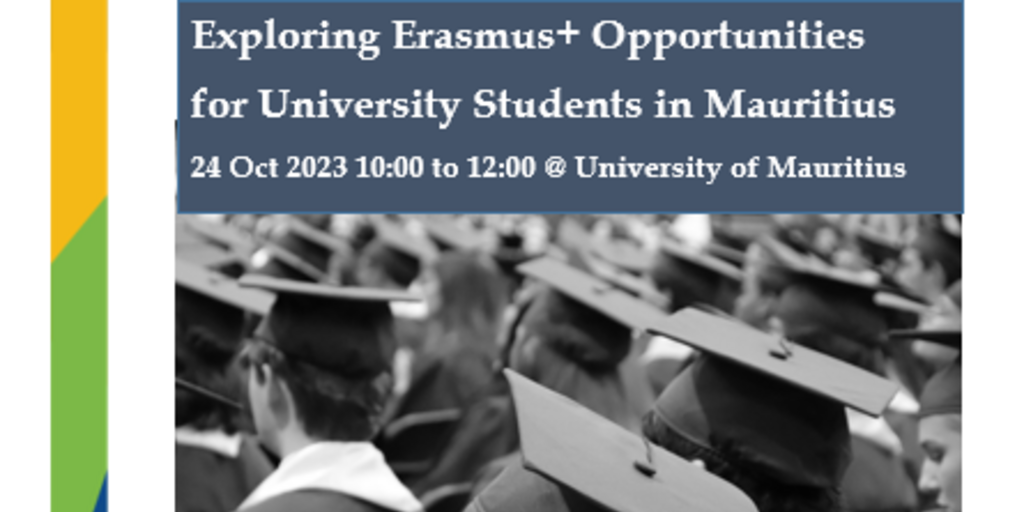 2023-10-18
Project summaries
News
Exploring Erasmus+ Opportunities for University Students in Mauritius
Explore Erasmus+ Opportunities for University Students at the University of Mauritius Presentation on October 24, 2023.
University Students have demonstrated notable interest in the upcoming Erasmus+ event scheduled for October 24, 2023, at the University of Mauritius. The event has been organised by ASAF Co-Ambassador in Mauritius, Roshan Halkhoree, in collaboration with the University of Mauritius and the Delegation of the European Commission under the umbrella of ASAF Local Projects 2023.The event has seen early registrations and growing enthusiasm among students,.
Diverse Perspectives, One Event
The event promises to be an enlightening experience, featuring presentations by distinguished speakers, including representatives from the Delegation of the European Commission. This is a significant opportunity for attendees to gain insights into the Erasmus+ program, its global impact, and its alignment with the broader vision of international education and youth mobility.
A Strong Start with European Commission's Involvement
The involvement of a European Commission representative is seen as a highlight of the event. Their presentation will provide a comprehensive overview of Erasmus+, emphasising its importance in the international educational landscape.
Student Stories: Real-Life Experiences
One of the most anticipated aspects of the event is the sharing of personal experiences by students who have directly benefited from Erasmus+ Mobility. These students will recount their adventures, the challenges they faced, and the transformative impact of studying or working abroad. Their stories serve as a testament to the life-changing potential of the Erasmus+ program
Erasmus+ National Focal Point: Guiding the Way
The Erasmus+ National Focal Point's presentation is set to be a valuable resource for students looking for information and guidance. It will demystify the application process and eligibility criteria, amongst others. This presentation is invaluable for students seeking to embark on their own Erasmus+ journey.
ASAF Ambassador: Forging Connections Across Africa
In an increasingly interconnected world, the presence of the Co-Ambassador of the African Student and Alumni Forum (ASAF) in Mauritius is highly significant. Attendees will learn how they can connect with peers across the African continent through Erasmus+ programs.
Why the Enthusiasm for Erasmus+?
The fervour for this event is rooted in the understanding that Erasmus+ is more than just an educational program; it's a life-changing experience. Participants have the chance to immerse themselves in different cultures, learn new languages, and develop skills that are highly sought after in today's job market. Beyond the academic benefits, it's an opportunity to become a global citizen and understand the world from a global perspective.
The strong response from students, even before the event has begun, reinforces the belief that the Erasmus+ program is meeting a real need within the university community. As organisers, we are excited and proud to witness this level of engagement and enthusiasm
Roshan Halkhoree
Mauritius, Reduit, 13th of October 2023
---