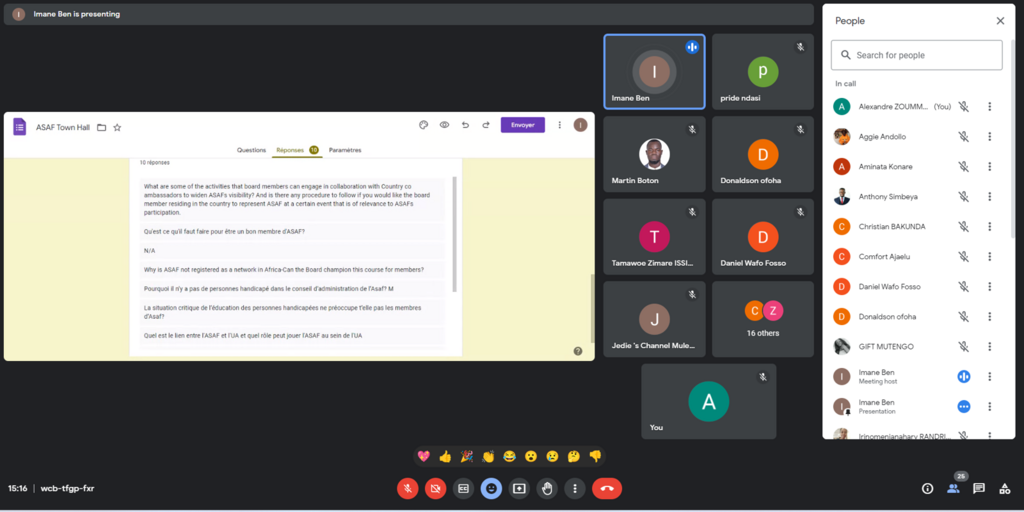 ASAF Town Hall
The ASAF Board organized a virtual Town Hall on Sunday the 30th of April 2023, in order to enlighten ASAF members about how ASAF functions internally, brief them about the activities of the board and the organization structure of ASAF, as well as answer important questions pertaining to ASAF.
On Sunday, the 30th of April 2023 at 4 PM CET via Google Meetings, the ASAF Board organised a Town Hall where the president of ASAF presented the organigram of ASAF showing the different working bodies and how they relate to each other. Furthermore, she presented the activities planned by ASAF for this year 2023, and responded to questions that were sent in advance via Google Forms. The questions brought up topics related to the inclusion of different ASAF members in elections and in ASAF's projects, how ASAF members can collaborate with the board and co-ambassadors, as well as how to be more involved in ASAF and questions about capacity-building trainings among others.
The President Imane Benrabiaa as well as the Vice-President in charge of Regional Integration and Cooperation Alexandre Zoumman answered the questions sent via the form as well as more questions asked within the meeting from participants. The meeting was done in both French and English, translated by our member Martin Boton. The meeting lasted until 6 PM CET and regrouped twenty-three members that engaged both via text and voice.
We hope to organise similar meetings in the future to satiate the curiosity and interest of ASAF members in the functioning and future of ASAF, and invite them to become more involved within the community.
Imane Benrabiaa
edited by Service Provider
Marrakesh, Morocco, 30.04.2023
---