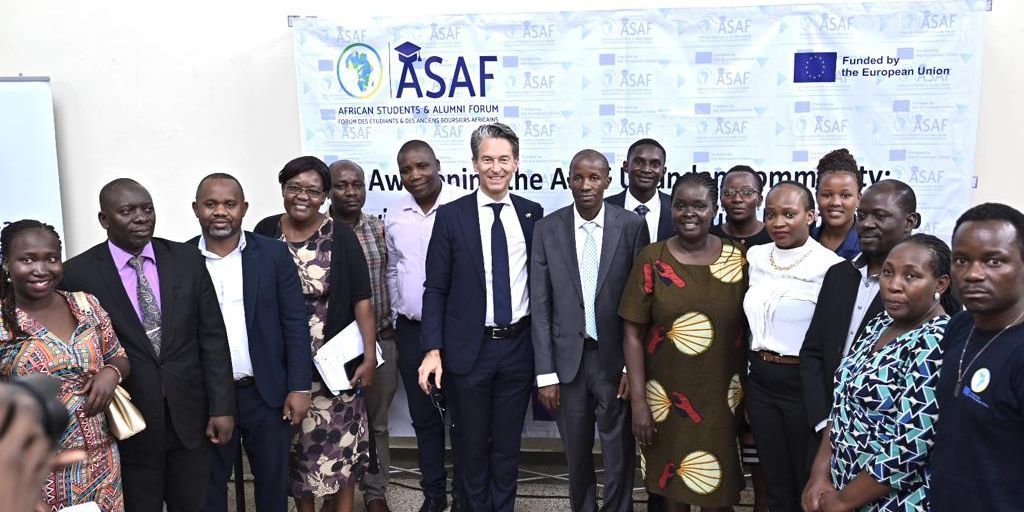 2023-11-20
News
ASAF News
Events
ASAF Outreach Event at Makerere University Business School
The event was organised by ASAF in collaboration with the EU Delegation in Uganda, to introduce ASAF's activities, at the same time promote opportunities available through the EU support towards education. Participants were trained on selected EU training mobility programmes for higher education. The outreach was tailored for students, faculty members and leaders.
On 26th of October 2023 the African Students and Alumni Forum (ASAF) had an incredible outreach event at Makerere University Business School! This exciting event was hosted by none other than Professor Moses Muhwezi, Principal of Makerere University Business School, and co-organised by the esteemed faculty of Tourism and Hospitality Management, led by Professor Milburga Atcero. Moreover, we were honored to have His Excellency, the EU Delegation Ambassador to Uganda, Mr. Jan Sadek grace us with his presence.
The ASAF outreach event proved to be a resounding success, attracting not only the local community but also garnering attention from prominent media houses, including NTV Uganda's highly regarded private television station. With an overwhelming number of participants numbering at 250, the event brought together students, staff, and faculties in a collaborative and engaging environment.
The primary objective of the ASAF outreach event at Makerere University Business School was to foster knowledge exchange, networking opportunities, and promotion of EU funded mobility Scholarship opportunities. Our aim was to create awareness of the EU funded
Mobility Scholarship programs with main focus on Erasmus + and Intra Africa-Mobility Scholarship programmes and space where students and alumni could connect, learn from one another, and inspire each other to achieve their full potential in applying for the mobility scholarships.
Throughout the event, participants had the chance to engage in thought-provoking discussions, interactive sessions, and captivating presentation from the EUD representative Mrs Juliette Rubenstain. By delving into topics related to Erasmus + and EU Delegation Uganda activities,which provided valuable insights and ignited a passion forMobility
Furthermore, the presence of the EU Delegation Ambassador His Excellency Mr Jan Sadek added an extra layer of prestige, highlighting the significance of this event on both a regional and international scale. The exposure gained through media coverage allowed us to reach a wider audience, spreading the message of ASAF's mission and contributions to fostering African talent and excellence.
Looking ahead, we are committed to continuously improving and expanding our outreach efforts. By incorporating feedback from participants, stakeholders, and partners, we strive to enhance the impact of ASAF projects and events. We aim to create even more impactful and transformative experiences that empower students and alumni alike to become leaders and change-makers in their communities.
Join us at ASAF as we continue to push boundaries, break barriers, and unleash the immense potential within Africa's vibrant student and alumni community. Together, we can drive positive change, foster collaboration, and shape a better future for Africa and the world.
Check out the YouTube Video NTVUganda here!
Nabawanda Juliet Kasozzi
Uganda,Kampala,16th of October 2023
---