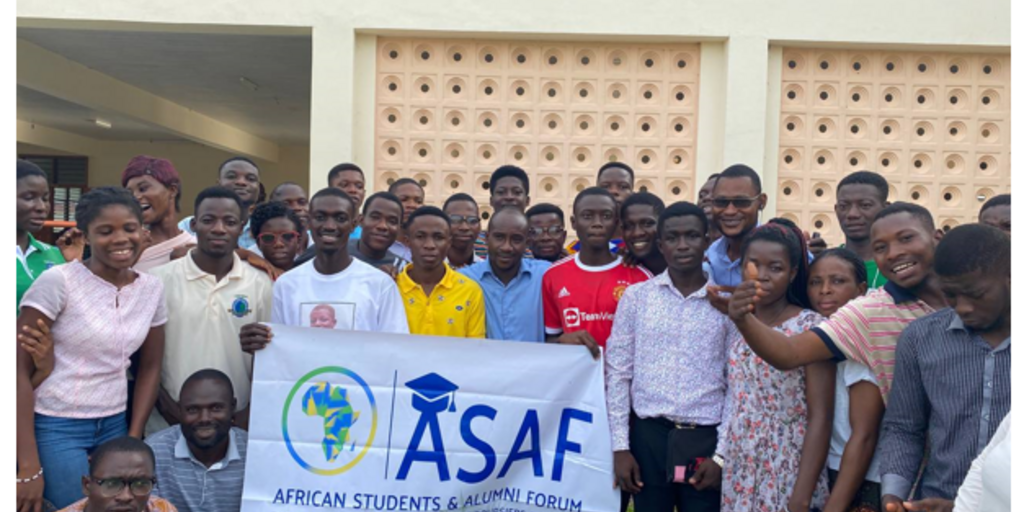 2022-05-31
General News
ASAF News
Events
ASAF collaborates with EU delegation to promote Africa-EU relations and Erasmus+
On the heels of the 2022 AU-EU joint summit, ASAF joins hands with EU delegation in Ghana to bring education awareness to the doorsteps of prospective participants in May.
Relations between Africa and Europe date back to the first contact between Africans and Europeans along the coast. This dynamic relationship has evolved over the years to its present form which is highlighted by the joint AU-EU summits. The month of May provides a unique avenue to celebrate both continents during the Europe Week of the European Union and the Africa Day of the African Union. As part of ASAF's desire to bridge both continents and bring their people together; a promotional event was held in collaboration with the university of Education-Winneba and the EU delegation to Ghana.
The event which was held on the North-Campus of the University of Education-Winneba attracted a lot of media attention, with over 600 people in attendance including staff, students and education-based civic groups.
After an opening prayer, the Head of the Department of Geography Education Dr Enoch Sam provided the purpose of the gathering which was followed by a keynote speech by the Dean of the Faculty of Social Sciences Education, Professor Lucy Effeh Attom. The head of the EU delegation to Ghana, H.E. Irchad Razaaly gave a speech on the theme: The relevance of the Africa-EU partnership in the 21st Century. He first gave a background of the European Union and some of its key figures. He then touched on flagship programmes such as the Green Deal, the EU's quest to be climate neutral by 2050, Global Gateway, and the EU-Africa Neighbourhood. He then touched on the EU-Africa agenda based on the shared destiny as a result of geography and history. Felix Kwabena Donkor, president of ASAF and Mr Jepe-Skytte HANSEN of the EU delegation then continued with a presentation on Erasmus+ opportunities and ASAF for students and staff. This was followed with a Q&A session where staff and students asked several questions about the EU-Africa relationship, Erasmus+ and ASAF. The audience were very grateful to ASAF and EU delegation for holding the event outside the capital so people from different backgrounds could also get information about such opportunities and insights on the EU-Africa relationship.
Felix Kwabena Donkor
Ghana, Winneba, 12th May, 2022
---