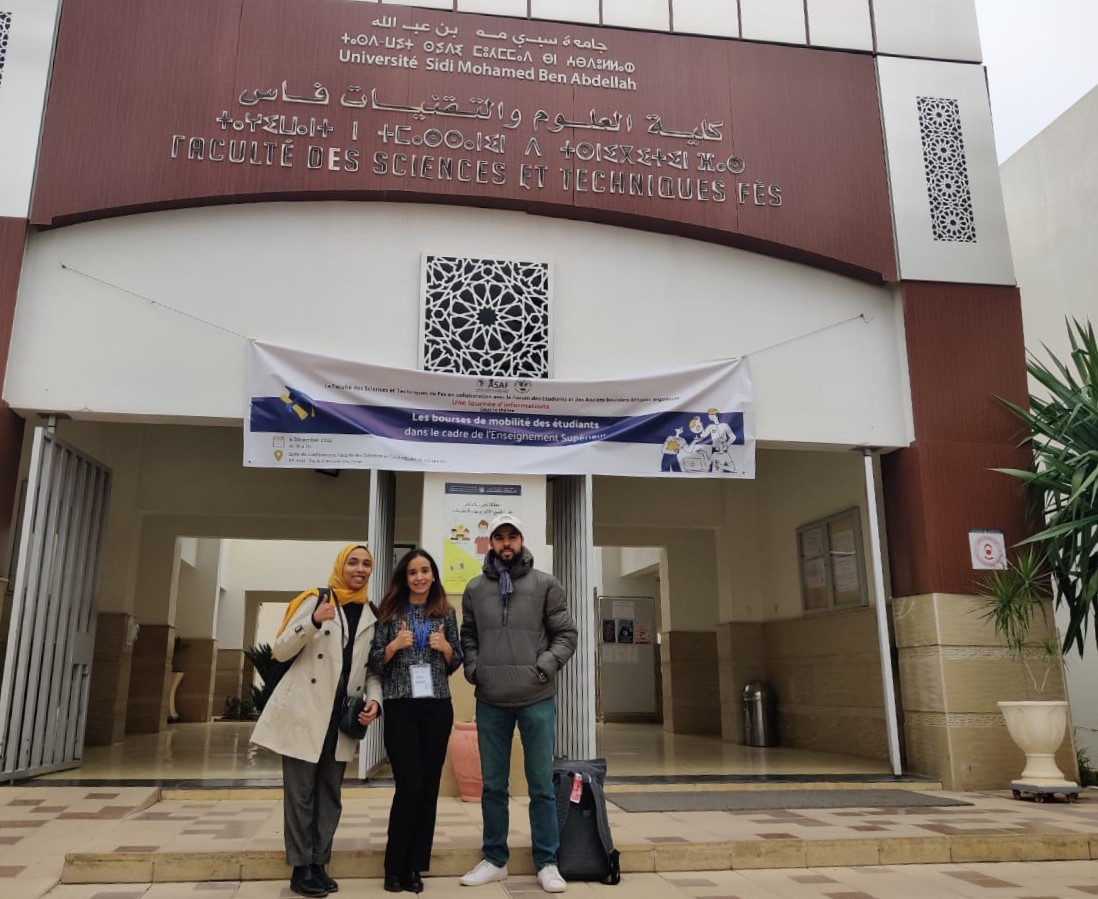 ASAF at the service of students of the University of Sidi Mohamed Ben Abdellah (USMBA), Fez Morocco
In collaboration with the Faculty of Sciences and Technologies of Fez Morocco, ASAF members in Morocco led by Morocco ASAF Co-ambassador Soumaya Nabih with the help and supervision of Prof Lahcen Benaabidate at the Department of Environment-FSTF, held an informative day in a hybrid format entitled "Student Mobility Grants in the framework of Higher Education" at the conference room of the Faculty of Sciences and Technologies of Fez on the 5th of December 2022, for the benefit of the Bachelor, Master and doctoral students.
The objective of this event was to promote and introduce the students to the "Africa-Africa" and "Africa-Europe" student mobility opportunities, with different panel members representing the university, ASAF, Campus France, the German Academic Exchange Service/ Deutscher Akademischer Austauschdienst (DAAD), Marie Skłodowska-Curie Actions (MSCA), and alumni and scholarship holders from these programs and different ones such Erasmus+, Erasmus Mundus, Intra-ACP among others sharing their experiences.
The main speakers were:
Prof Ahlame Begdouri Vice Dean - Scientific Research & Cooperation at Faculty of Sciences and Technologies of Fez, Morocco, opened the event inciting students on the importance of mobilities and scholarships for their academic and professional career as well as the university available assistance and efforts in that framework,
Ms Imane Benrabiaa, PhD Candidate and ASAF board president introduced the mission, vision, milestones and the different activities of the Forum,
Mr Souheil Subervie Head of Campus France Fez-Meknes - French Institute Morocco and Mr Merouane Chiboub Campus France Information Officer Administrative manager in Fez Morocco, gave a detailed explanation of the Campus France procedure with promotional materials,
Dr. Amani Alawamleh the Head of the Phytosanitary Division at the Plant Protection and Phytosanitary Department at the Ministry of Agriculture, Amman, Jordan and Chair Marie Curie Alumni Association Middle East Chapter shared an extensive presentation on Marie Skłodowska-Curie Actions (MSCA) Under Horizon Europe,
Ms Ursula Heming DAAD-Lecturer from German Academic Exchange Service, at Moulay Ismail University Meknes Morocco, introduced the students of USMBA to what It's like to study in Germany and the different funding opportunities including DAAD programs,
Mr Nabil Laakoun PhD Candidate ex-Task Force ASAF member and Erasmus+ Ambassador (Béni-Mellal - Khénifra region) talked in general about Erasmus+ program, the important links, and the go-to contacts of Erasmus+ program at Morocco and international level,
And Ms Nada Joumar PhD candidate ASAF member organized a workshop on the important links of different existing grants, scholarships, and the general procedure of grants application procedure.
Finally the alumni and scholarships holders that shared their experience with the students whether in a recorded, online or presential format was the highlight of the event as it brought students closer to the reality of the different existing opportunities to enhance their career through mobilities and grants.
Ms. Fouzia Zayou, (online) PhD Candidate at the University of Birmingham, UK, Erasmus+ Alumna, Fulbright Alumna and Marie-Curie Fellow
Dr. Zineb Moumen, (online) Doctor in Water and Environmental Science (FST-Fes) Erasmus+, Marie-Curie Alumna, and Young generation as a change agent scholarship holder
Ms. Nihal Ouazzani Chahdi, (online) PhD student at Bayreuth International Graduate School Of African Studies (BIGSAS) Erasmus+ Alumna and DAAD scholarship holder
Mr. Yao-Messan Nouwodou, (online) PhD student at the University of Paderborn, Germany DAAD scholarship holder
Ms. Ikram Lahmidi, (in person) PhD candidate in Geo-resources and Environment field (FST-Fes) and Erasmus+ Alumna
Dr. Jackson Lontchi, (Recorded) Research & Development Engineer Institut Photovoltaique d'Île-de-France (IPVF) Palaiseau, Île-de-France, France, and Former Intra-ACP Fellow
Ms. Botny-Capel Anne-Eunice, (Recorded) PhD Candidate, Engineer and researcher in Hydrology at the Ministry of Scientific Research and Innovation of Cameroon and Erasmus external expert for the European-Togo delegation, Mwalimu Nyerere African Union scholarship Alumna
Mr. Toussaint Nolasque YOBOUE, (Recorded) Specialist in Training Engineering, Responsible for Training and Awareness at AFOR - Land Agency Abidjan, Ivory Coast and Alumnus Erasmus Mundus Stettin and Campus France
Mr. Baha SAIDI, (Recorded) Inside Sales Specialist chez NORAM & APAC, Massy, ​​France, MBA commerce and international relations Ex- member du Board ASAF, et Alumnus Erasmus +
The panel speakers answered students' questions about scholarships and mobilities, and the importance of these to improve learning, innovation and competitiveness in Africa by supporting employability, career prospects and entrepreneurship of young people by strengthening their participatory and leadership skills.
In a broader scheme, the hope is that this event will be a steppingstone for more during the academic year 2022/2023 in other Moroccan universities as it aligns well with ASAF's overall vision and mission to contribute to the achievement of the United Nations Sustainable Development Goals (SDGs), and specifically to enhance learning, mobility, innovation and competitiveness in Africa by supporting the employability, career prospects and entrepreneurship of young people by strengthening their participatory and leadership skills.
By Soumaya Nabih (Co-ambassador of Morocco)
edited by the servjce provider
cologne, germany 8th of december
---